- The full article was originally published on JConcepts (Racing) -
What an incredible way to end the JConcepts California Tour! Before we dive into the Team Associated Top Gun Shootout (our final stop on the tour), let's go back to December 2nd. On December 2nd, the JConcepts crew headed out for the first-ever JConcepts Tour! We started out in Palm Desert, California where we visited Palm Desert Raceway and participated in their 17th Annual Toys for Tots Race. Jason Ruona, Allison Ruona, and Hannah Hardison from the JConcepts HQ attended. As for drivers, we were joined by Spencer Rivkin, Ryan Maifield, Adam Drake, and Ronda Drake for the duration of our Southern California Tour. From Palm Desert, we headed to The Dirt in Perris, where our drivers would test and tune before competing in the Wednesday Night Club Race. Wrapping up the tour, we finished with  1:10 scale racing at SDRC Raceway in San Diego for the 2021 Team Associated Top Gun Shootout!
We arrived early Thursday afternoon to set up and practice. Friday was another full day of practice and qualifying would begin on Saturday. As usual, Sunday was reserved for the highly anticipated main event day! The track layout seemed to flow well and drivers, first unsure about the large center triple, quickly mastered it. The competition in the modified classes was stacked. We had several seasoned drivers along with a couple of new faces. New to the modified classes were Matthew Gonzales and Davey Batta. Both drivers have decided to push themselves to the next level and compete in the prestigious modified division. They each had a great debut with Matthew Gonzales finishing 4th overall in the 4wd Class and qualifying 2nd in the 2wd Mod Buggy main. Davey Batta finished 5th in 2wd Mod Buggy overall and made the 4wd main!
Check out the Full California Tour Album Here.

Final Results: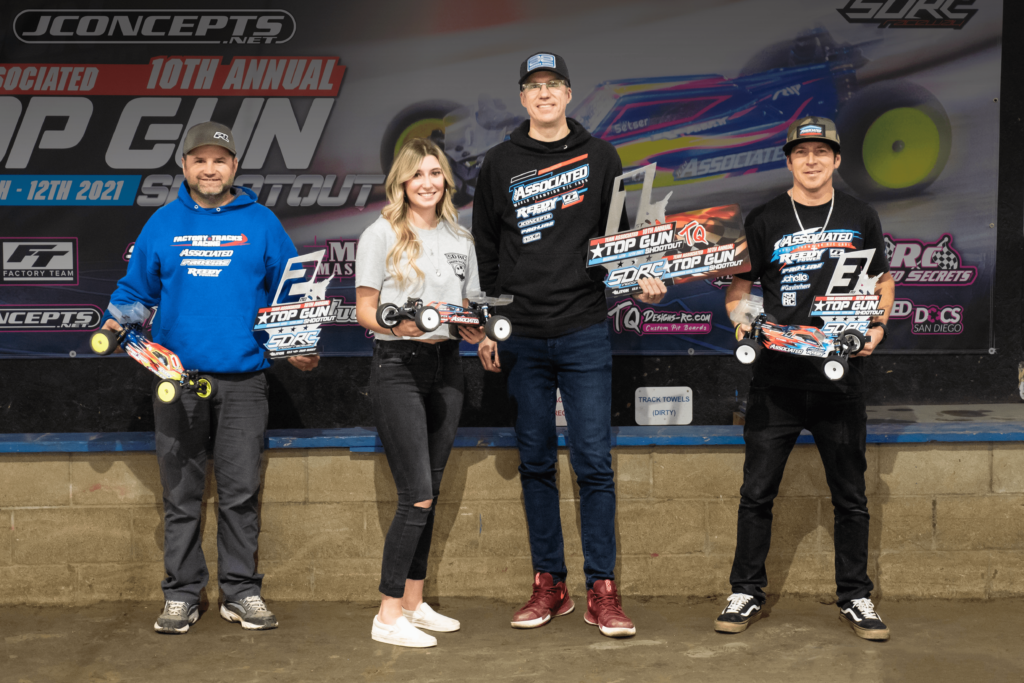 A big congratulations once again to all of our drivers who made the podium! We were stoked to win all of the buggy classes and take some spots on the Short Course/Stadium Truck podiums! This event was the perfect ending to our JConcepts Tour and we couldn't be more grateful. Thank you to Sean Story for hosting us at SDRC, you and your team hosted a phenomenal program! We'd also like to recognize Anthony Westerguard and his family for hosting us at Palm Desert during stop #1 on the tour. Lastly, we'd like to thank Joey Christensen for allowing us to test and tune at his facility along with a great Wednesday Night club race. The JConcepts Team has been incredible to work with all year long and we can't wait to see what's in store for the 2022 season!
We'll see everyone trackside soon! Up next, the CRCRC MidWest Championships!